Ultrasound-Guided Breast Biopsy
now available for most exams
OR CALL 913-344-9989 (KS), 816-444-9989 (MO)
ULTRASOUND-GUIDED BREAST BIOPSIES AT DIAGNOSTIC IMAGING CENTERS
Our Overland Park clinic now offers ultrasound-guided breast biopsies. A biopsy may be recommended when a radiologist identifies an area of concern through breast imaging, such as mammogram or breast ultrasound. This page will help you understand what to expect.
WHAT IS AN ULTRASOUND-GUIDED BREAST BIOPSY?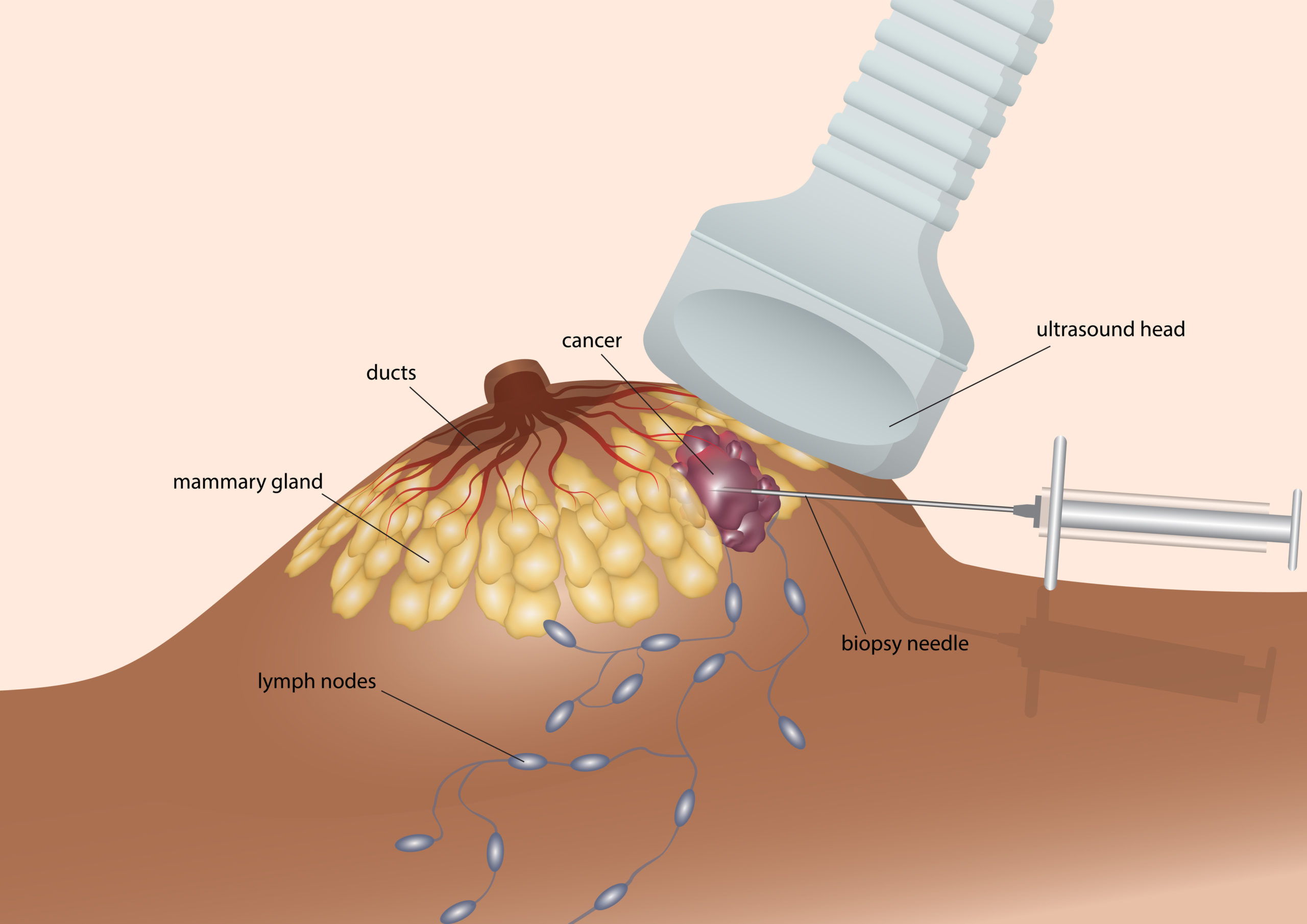 This safe, and minimally invasive, procedure allows further study of breast tissue or lymph node tissue to confirm if the breast tissue is benign (no cancer found) or cancerous. First, the area is numbed with a local anesthesia. Then, the radiologist uses ultrasound to guide a biopsy needle directly into the mass. Tissue specimens are taken with a small needle biopsy device. The radiologist then inserts a tiny biopsy marker at the site, which will allow accurate follow up to the mass in question. This biopsy marker is smaller than a grain of rice and will not affect future breast imaging.
HOW DO I PREPARE FOR THE PROCEDURE? 
Ultrasound-guided biopsies are minimally invasive, but there is a risk of bleeding when your skin is pierced. If you are taking aspirin, you are advised to stop 4 days before your biopsy procedure. If you have a known bleeding condition or are taking blood thinners, please inform your technologist. We may need to coordinate the biopsy with your referring provider in this case. 
Do not use underarm deodorant, lotion, or powder before your procedure. 
Wear clothing that is comfortable and two-piece. 
Having a breast biopsy can be a stressful procedure. If you wish to bring someone you trust with you to lend support, we welcome that. 
CAN I EAT BEFORE THE PROCEDURE? 
Yes, a light meal is encouraged before your biopsy. 
HOW LONG DOES THE PROCEDURE TAKE? 
The ultrasound-guided biopsy takes about 15-20 minutes, with the whole appointment taking an hour or less. 
You can continue your day normally after the procedure; however, we do stress that you have no strenuous activity or heavy lifting for 24 hours after your procedure. 
WHEN DO I GET THE RESULTS? 
The biopsy sample is sent to MAWD Diagnostics for pathology review. The diagnosis will be typically available within 5 working days.  
If you have further questions about your breast biopsy, please feel free to reach out to our breast coordinator at 913-319-8477.