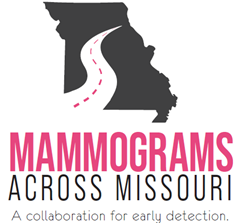 New Taskforce Created With Lowering Breast Cancer Mortality As It's Goal
Healthcare is complicated.  But it doesn't have to be.  Getting a mammogram should be simple – and it CAN be, when doctors, communities, and leaders work together.
The global pandemic has created a perfect storm of unprecedented declines in screening mammography.  The state of Missouri ranks 19th in the United States for the highest breast cancer mortality based on data from 2014-2018.  We predict that COVID will exponentially drive the mortality rate up.  Racial disparities continue to create barriers for women to access life-saving prevention health care.
With a proactive approach to combat the declining screening rates and targeting counties where mortality rates are highest – we may be able to get ahead of the tsunami of deaths predicted from breast cancer.  Partners, providers, state government and organizations are joining together to tour the state and provide access to screening mammograms through mobile mammography services.
"It is during difficult times that leaders recognize the need to set aside differences and to work together towards a common purpose.  While the world has shown this can be accomplished by uniting against Covid-19, it is important for those of us in healthcare not to forget about our ongoing battle against breast cancer. It is to that end that we continue our combined efforts, but this time we unite against breast cancer.  That common purpose is what inspired the idea for this taskforce.  Together we can make a difference.  We can detect cancer earlier, saving lives and making a difference for those in need.  Diagnostic Imaging Centers is proud to be leading efforts to amalgamate against breast cancer. The first of several events in Missouri starts in Clinton County, on June 7th.  It is our hope that bringing mobile mammography to those in underserved areas provides lifesaving screening services and increases awareness as early detection has been proven to save lives," stated Ed Moore, CEO of Diagnostic Imaging Centers, P.A.
Here is a list of the partners included in the taskforce:
Diagnostic Imaging Centers, P.A.
Missouri Department of Health & Senior Services
Show Me Healthy Women
Gateway to Hope
American Cancer Society
Siteman Cancer Center | Washington University in Saint Louis | BJC Healthcare
Masonic Cancer Alliance | The University of Kansas Cancer Center
Missouri Primary Care Association
Missouri Cancer Consortium
"Siteman Cancer Center is proud to be a leader in cancer treatment, research, prevention, and education. The mission of our Community Outreach and Engagement is to ensure that all cancer patients and communities' benefit from the clinical and scientific advances at SCC. More than 5000 women will be diagnosed with breast cancer in MO this year, and the rates are rising. Many of us delayed our routine cancer screening due to the pandemic, and many of our counties were already seeing very low rates of mammography even before COVID-19. But if we can catch the cancer early, that dramatically improves outcomes. We are so excited to be a part of this important effort, and we really hope to bring additional resources into these communities to help them get back on track with routine health screenings," said Dr. Sarah Chavez, Senior Scientist, Community Outreach and Engagement
The taskforce is targeting the top ten counties in Missouri with the highest rate of mortality due to breast cancer. Coming up in June, the Diagnostic Imaging Centers mobile 3D mammography unit will be in Clinton County, specifically Gower and Cameron, providing screening mammograms.
With Show Me Healthy Women funding and resources, uninsured women who qualify will be able to receive covered mammograms. The mobile events will also accept in-network insurance plans as well.
If you would like to know more about the taskforce or the upcoming mobile mammography events, please reach out to Abbie Sanderson at [email protected].