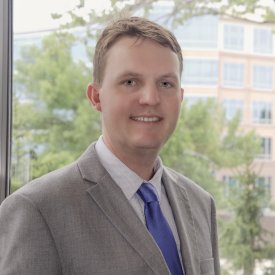 Saying goodbye to Kansas City, but hello to home!
We are taking a few moments to say thank you to Dr. Daniel Sova. He has given us five and a half years of service, but now he heads back home to South Dakota to be closer to family. 
Dr. Sova was an integral part of our musculoskeletal imaging team, bringing new procedures and knowledge to the team of radiologists and technologists here at Diagnostic Imaging Centers.  He helped the team be successful in the competitive field of outpatient orthopedic imaging. Dr. Sova completed his undergraduate degree at the University of Nebraska-Lincoln and earned his medical degree at the University of Nebraska College of Medicine in Omaha, where he was Vice President of his medical school class. He also spent a year training in musculoskeletal radiology at the University of Michigan. 
Radiologists here at Diagnostic Imaging say that Dr. Sova is a hard-working physician, who is always willing to help. Dr. Scott Sher shared many cases with Dr. Sova and said that he will miss all the pearls of information that he has taught him. "He has made me a better radiologist by challenging me to be the best that I could be," said Dr. Sher of Dr. Sova. 
Dr. Sova has some great abilities outside of the field of radiology. He can play a pretty tune on the ivories; he plays the piano phenomenally. Sometimes, he was caught jamming with other members of the Diagnostic Imaging staff.  
Dr. Sova, thank you for being a team player and always jumping in to help when needed. We are so thankful for your hard work and dedication. We wish you and your beautiful family the best as you move back home to be closer to your family.