Welcome: Dr. Michael Farber Joins the Team
As the seasons change here in Kansas City, we have a new face joining our team of radiologists.  Dr. Michael Farber started at Diagnostic Imaging Centers in February this year.  Dr. Farber is a Kansas City native and comes to us from a local hospital group. He received his undergraduate and medical degrees at the University of Missouri. He continued on to the University of Minnesota for a residency in diagnostic radiology. After that, Dr. Farber went to the Mallinckrodt Institue of Radiology at Washington University in St. Louis, where his fellowship focused on abdominal radiology.   
Dr. Farber is excited to bring his expertise in abdominal and gynecologic imaging to our team of talented radiologists. We are fortunate to have his expertise expand our capabilities in the areas of liver and gynecologic MRIs as well as breast imaging including breast biopsies. Dr. Farber has been a valued and respected radiologist in the Kansas City community for many years and brings along with him great relationships with the physicians that send their patients to our nine area clinics for their medical imaging.  
One thing that he says drew him to the team here at Diagnostic Imaging Centers is that the company has been physician and locally owned for more than 50 years. Stepping away from corporate medicine into the independent imaging world is something that Dr. Farber is very excited to experience.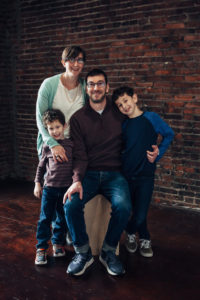 When he's not in the reading room or helping with procedures, Dr. Farber and his family like to visit the local parks that the city has to offer, especially in the Overland Park area. Also, as a history buff, one of his favorite places to visit is the WWI Museum. If you catch Dr. Farber in the halls at our area clinics, snag him to discuss history, or your favorite weekend outdoor activities with your kids!